a sad farewell to the mural in Claude Alley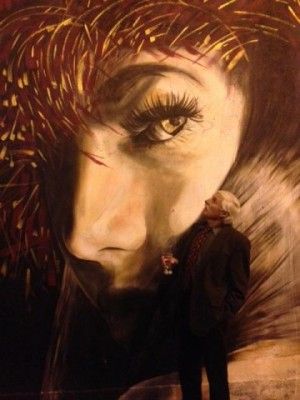 My trios played once a month at Cafe Claude for over 10 years. Most often it was the Good Vibes Trio (piano-vibes-bass), but on occcasion i used a piano-guitar-bass or piano-bass-drums format. Cafe Claude was located in downtown San Francisco in an alley between Bush, Kearny, Post, and Grant. The restaurant was up a stairway half-a-floor above the alley. A small zinc bar was located  in the front and   two  wings opening out at right angles  seated about 40 diners in each. Just to the left of the entrance, parallel to the entry stairs and in front of the bar, was a glass enclosed (3 sides)  alcove that accommodated two tables during the day and a jazz group most nights.
 At Cafe Claude the intimacy and dynamic between musicians and audience was perfect for jazz. The "Good Vibes" sound suggested George Shearing in Paris,and  we were able to skip deftly through bebop classics, quality standards, contemporary jazz esoterica, bossa nova, and a few originals. The Good Vibes Band Book included Pent-up House, Django, C'est si Bon, i Love Paris, Afternoon in Paris, the entire Miles Davis Kind of Blue album, a Porgy and Bess suite, Giant Steps, Two for the Road, and a wide variety of totally esoteric jazz compositions from European jazz musicians. We knew how to play the gig, and we did it well.  We concluded each evening by celebrating over a "three-star" French meal and a glass of fine Bordeaux.
It all ended abruptly, however,  when Zaque, the club's formerly innocent techie "sound boy, " was named the new new Music Director. The announcement came in the form of an e-mail from him in early February, a week before Valentine's Day. It was wordy and pompous, but the sentence that caught my eye immediately was, "The first thing I want to express, all of you will continue to get booked at Cafe Claude."
We, of course, never got booked again...
It's a long, ugly story, but it was predictable. Most likely it was the "New Management Rule #1: Fire a musician!" The oldest guys, of course, would be the easiest target.
That's the short of it. If you want to learn more about the evil  Zack Eyn, go to his website at https://www.linkedin.com/in/
zaqueeyn and use your imagination
. If you don't, stay on this website and continue to enjoy the tasteful jazz that used to fill Cafe Claude.